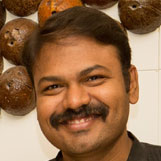 Dr. Parthasarathy.R
Dr. Parthasarathy.R is a practicing Ayurveda Vaidya currently heading Swami Dayananda Jayavarthanevelu Ayurvedalaya( SDJ Ayurvedalaya) as a Director & Chief Medical Officer.
Dr. Parthasarathy completed his 6 year Ayurveda Training from the most reputed Ayurveda College of AVP affiliated to Dr MGR Medical university and then completed a short term Post Graduation Certificate course in Good Clinical Practices course from FRLHT-IAIM,Bangalore with a second rank.
Prior to taking over this mission at SDJ on the Invitation and blessing of Pujya Swami Dayananada Saraswati ji , Dr. Parthasarathy was heading the International Training Academy and a Branch Hospital of the well-known Arya Vaidya Pharmacy (AVP) and has served as Course Director for many courses organized in collaboration with Universities and Organizations in India, Brazil, Japan, Switzerland, USA, Argentina, Spain and Indonesia.
Dr. Parthasarathy has a good command over Sanskrit and can also fluently converse in Sanskrit. He had completed a course in Sanskrit, from Rastriya Sanskritha Sansthan, New Delhi. He is still an active volunteer to propagate Sanskrit Language and is also a Trustee of Sanskritha Bharathi, Dakshina Tamilnadu.
In the last 11 years, has Lectured face to face for 3000+ hours on various topics of Ayurveda to more than 10,000 people which Ayurveda Medical Doctors, Western Medical Doctors, Indian Forest Service officers in the Ministry of Environment and Forests, Health Professionals, Researchers, Students and General public both in India and also during his 19 International visits to Brazil, Argentina, Chile, France, USA and United Kingdom. Dr.Parthasarathy was also honoured with the prestigious title of "Illustrious Guest" by the National University of Medicine, Rosario, Argentina subsequent to the 7 day Workshop on "Integrating Ayurveda in Daily Medical Practice" for 150 Doctors in the University. He has also given short term and long term courses in many Medical Universities in South America and India.