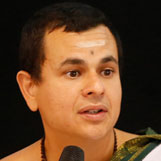 Acharya Vishvanatha (Jonas Masetti)
Jonas Masetti, otherwise known as Vishvanatha, is a Grhasta and a traditional Vedanta teacher settled in Brazil . Before the study of Vedanta he Graduated in engineering (IME) and had a successful career as a financial market consultant. He is mostly known for his regular Vedanta Classes and his daily Podcast, where his teachings are streamed to more than 150 thousand listeners.
Vishvanatha completed his Vedanta studies under Sri Pujya Swamiji Dayananda Saraswati in the 3 years course in Coimbatore, India and since then he teaches Vedanta, Sanskrit and Mantras both online and in retreats for Portuguese speaking people mostly from Brazil.