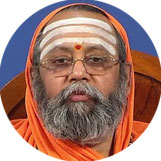 Pujyasri Omkarananda Mahaswamigal
Pujyasri Omkarananda Mahaswamigal has taken up the sacred mission of rejuvenating the spiritual values and the cultural traditions of India.
Born in a family steeped in tradition and culture, he adopted the Vedic lifestyle from an early age. An erudite scholar par excellence, he was a Ghanapathi in his Purvashrama, well versed in both the Veda Purva and Veda Anta Bhagas. His eloquence and mastery, both in Tamil and Sanskrit, have earned accolades and words of praise, from learned Pandits across the country.
He had Sanyasa Diksha from Pujyasri Swami Chidbhavananda, the founder of the Sri Ramakrishna Tapovanam, Thirupparaithurai. Pujyasri Swamiji studied Vedanta under Pujyasri Swami Paramarthananda, one of the foremost disciples of Pujyasri Swami Dayananda Saraswati, under whom he studied in depth the various Vedantic scriptures, in a traditional manner. For over the past 30 years, he has been spreading far and wide, the teachings of the Dharma Shastra-s and the Tattva Sasthras. In Vedapuri, Theni, Pujyasri Swamiji has established an Ashram in the name of Parama Pujyasri Swami Chidbhavananda. Through his spiritual discourses, he has been spreading the Vedantic teachings, in spiritual camps held across the globe. Pujyasri Swamiji has established Vedanta Sasthra Prachara Trust, through which he trains his students and devotees, on the spiritual ways of life. And inside the Ashram, he has established through the Sri Dakshinamurti Seva Samiti, the Adiguru Sri Prajna Dakshinamurti Vidyapitham, for Chitta Shuddhi & Mana Shanti. Through his eloquent discourses, he drives home the deep insights, of the Bhagavad Gita and the Upanishads, in such a simple manner, that even a common man can comprehend them, with ease. He expounds the essence of some of the sacred texts in Tamil, such as Thevaram, Thiruvachakam, Thirumandiram, Thayumanavar's hymns, Bharatiyar's songs and Thirukkural, in particular. Pujyasri Swamiji's emphasis is on Dharmanushthanam, Shastra Pracharam and Dharma Rakshanam.