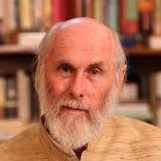 Pandit Vamadeva Shastri (David Frawley)
Pandit Vamadeva Shastri (Dr. David Frawley ) is a recipient of the prestigious Padma Bhushan award, the third highest civilian award granted by the government of India, "for distinguished service of a higher order to the nation," honoring his work and writings as a Vedic teacher, which he received in March 2015.
He is the author of more than 35 books available in more than 20 languages worldwide. He has produced definitive texts on Yoga, Ayurveda, Tantra, Vedanta, the Vedas, ancient India and Hindu Dharma. He has received D.Litt. degrees from SVYASA (Swami Vivekananda Yoga Anusandhana Samsthana) and from Ram Manohar Lohia Avadh University, as well as a National Eminence Award from the South India Education Society (SIES). In India, Vamadeva's translations and interpretations of the ancient Vedic teachings have been acclaimed in both spiritual and scholarly circles. He has worked extensively teaching, writing, lecturing, conducting research and helping establish schools and associations in related Vedic fields over the last more than three decades. He is the director of the American Institute of Vedic Studies and works with Vedic associations worldwide. He has been one of the main pioneers in introducing Ayurvedic medicine to the western world, as well as Jyotisha (Vedic astrology), the deeper aspects of Yoga and Vedanta, and the interpretation of the Vedas.
Vamadeva sees his role as a "Vedic educator" helping to revive Vedic knowledge in an interdisciplinary approach for the planetary age. He regards himself as a translator to help empower people to use Vedic systems to enhance their lives and aid in their greater Self-realization.